Vacation Bible School serves as the beginning event for Oak Grove's summer programs.
VBS is held in early June and provides classes for all ages. The evening school begins on Sunday and goes through Friday. A family night program concludes VBS on the following Sunday evening.
Each night's school begins with a meal for participants. A worship rally follows the meal. Class time includes Bible study, crafts, music, recreation and refreshment.
2013 VBS Sneak Preview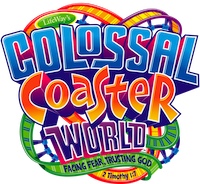 Listen to 2013 theme song-Colossal Coaster World
Colossal Coaster World mp3 download
Change My Heart
I Will Trust in You
Stand Strong
Speak Up: Tell the World
The Ride of Your Life
Thank you for being a part of Oak Grove's VBS!
June 2012
Amazing Wonders Aviation theme song!
Download the 2012 theme song!
Remarkable
If God
A-M-A-Z-I-N-G
Worthy
In Your Power
Yes to VBS!
---

VBS 2011 music
VBS 2011 Big Apple Adventure
Love You More
By Faith
Why Don't You?
I Will
Live It Out
Yes to VBS!
---

VBS 2010 songs
Saddle Ridge Ranch — VBS 2010 theme song
God Cares
Who He Says
Like Jesus
Tumbleweed
What I'm Gonna Do
Music preview ©Copyright 2009, 2010, 2011, 2012 Lifeway Christian Resources. The music on this page resides entirely on Lifeway servers. Future availability is determined solely be Lifeway.